PEACH JOHN, a well-known underwear brand in Japan, believes that intimate wear is an indispensable existence for women, and expects to make women's body, mind, and soul happy through the creation of lingerie, clothing, home apparel, body maintenance, groceries, etc. Therefore, PEACH JOHN has become one of the most popular lingerie brands that dominating the agency shopping circle for a long time, in 2017, it entered the Xinyi district of Taipei and attracted many women customers. However, in addition to physical stores, e-commerce is a major focus of the current sales model, and CLICKFORCE is planning an all-media platform placement strategy for PEACH JOHN, using different advertising platforms to reach precise groups to achieve different marketing objectives.
PEACH JOHN has a lot of products and styles, but how to deliver the right product to the right audience?
CLICKFORCE not only experienced in campaign strategy, but also uses [HOLMES DATA] (DMP) to extract people who are interested in fashion, beauty care, Japanese girls, etc., and increase the advertising efforts to enhance the communication with consumers.
In addition to identifying customers with different interests in our hot-selling products, CLICKFORCE also considers the external environment or the official website's preferential promotions band to adjust the weighting of media platforms and taps more women who are interested in the brands, Assisting PEACH JOHN to increase brand members and transfer orders. The following are the strategies for each platform :
1. FB / IG:
Considering the target audience is relatively young, we will take advantage of the high adhesion between FB and IG youth to increase brand awareness; In addition, the use of featured collection ads, so that consumers can browse all products without leaving the platform, enhance shopping desire.
2. Google Network:
Using dynamic remarketing to remind consumers of products that they are interested, awaken their memories, they will be more willing to re-enter PEACH JOHN's official website again, which will not only enable them to browse more products but also enhance the depth of communication.
3. Google Keyword:
Since FB & IG & Google have already communicated with TA many times, when consumers have demand for products, they can use keyword ads to maximize brand exposure and improve the brand impression.
Nowadays with the fierce competition in the e-commerce industry, and as consumer behavior tends to become fragmented, it is no longer an era in which a large amount of advertising budget can be easily converted in the past. Advertisers need to clearly understand, make good use of various advertising platform features, or have experienced online advertising marketing partners assist with advertising marketing goals. Since CLICKFORCE started serving PEACH JOHN in August 2019, compared with the same period last year, not only the number of customer orders rose, but the overall conversion rate has grown significantly. The number of transactions and product revenue have also doubled.
〈Google Keyword〉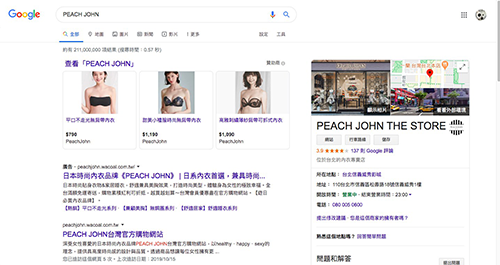 〈FB〉
〈Mobile〉
CLICKFORCE提供24小時零時差專業服務與360度全方位媒體整合方案 ; 相關業務請洽:域動行銷02-2719-8500