In 2020, under the influence of major issues such as climate change, slowing economic growth, and the raging epidemic of COVID-19, the global economic market is facing a severe recession, and the automotive industry has also been greatly affected. Therefore, when CLICKFORCE assists car brands in marketing planning, it focuses more on helping these advertisers effectively use marketing resources and adopt the best marketing strategy. The purpose is to accurately communicate with the target consumers so that auto brands can still achieve good sales in the face of adversity!
SUZUKI SWIFT has the characteristics of flexible driving and low fuel consumption. The latest model has launched a more dazzling appearance and interior, seizing the characteristics of the young people's passion and adventure, which has become the most visible car in the market. In this campaign, CLICKFORCE magnified the advantages of SUZUKI SWIFT and combined with the customized advertising strategy to create a dazzling performance for the campaign and drive consumers' actual purchase willingness.
The following strategies are used in this campaign:
1. Mixed data: Integrate telecom data and multiple data sources to find out people who are highly interested in the automobile and automobile industry and other potential buyers, and accurately place advertisements to them.
2. Retargeting: For customers who have visited SUZUKI's website but have not scheduled a test ride or clicked on SWIFT's advertisement, strengthen the delivery of advertisements. By repeating communicating to consumers who are interested but have not yet acted, deepen their memory of SWIFT and promote their willingness to purchase.
3. Observing the crowd bubble chart: Observe the interest of people browsing the web through HOLMES DATA (DMP), and find that the group of sports lovers has the highest browsing performance, so strengthen the advertising to this group.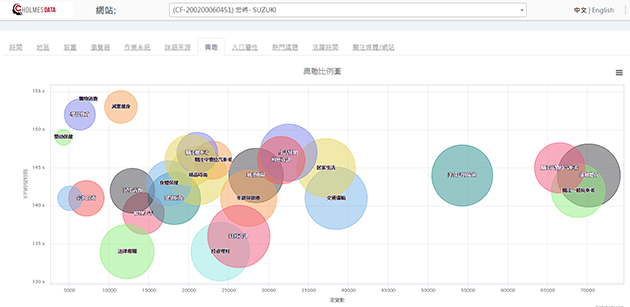 4. Experience blessing: Leverage the experience in the implementation of advertising in the automotive industry, and deliver ads to the time slots, crowds, and websites that perform better.
From the detailed marketing plan in advance to continuously optimizing during the process, CLICKFORCE combined its 10-year experience in digital advertising and the data-oriented technology such as "mixed data" and "retargeting" to successfully reach the marketing goal. Not only helped SUZUKI achieve 109% clicks target and 126% CTR target in ad performance, but also brought high-quality crowds to SUZUKI's website, the campaign result was highly recognized by the advertiser!
〈PC〉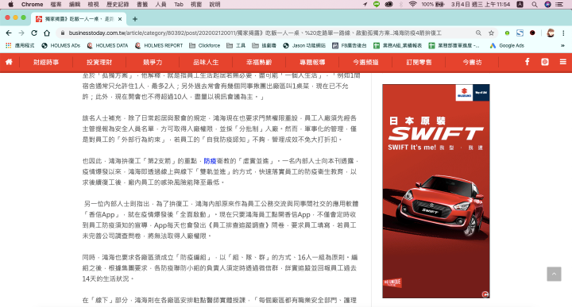 〈Mobile〉