Facebook advertising is fiercely competitive, how to find a breakthrough in adversity?
Nowadays, Facebook is one of the irreplaceable platforms for all brands and advertisers. How do brands stand out in such a competitive advertising market?
CLICKFORCE promotes hybrid data services for a long time. Even using the same marketing tools, customers can still use our external data to grab the preliminary TA profile of accurate advertising and reach better ad performance than the competition.
UNDER ARMOUR
, a well-known international sports brand used hybrid data to develop a different Facebook ad strategy from the past. Making breakthroughs in the long-term fierce competition in the e-commerce field.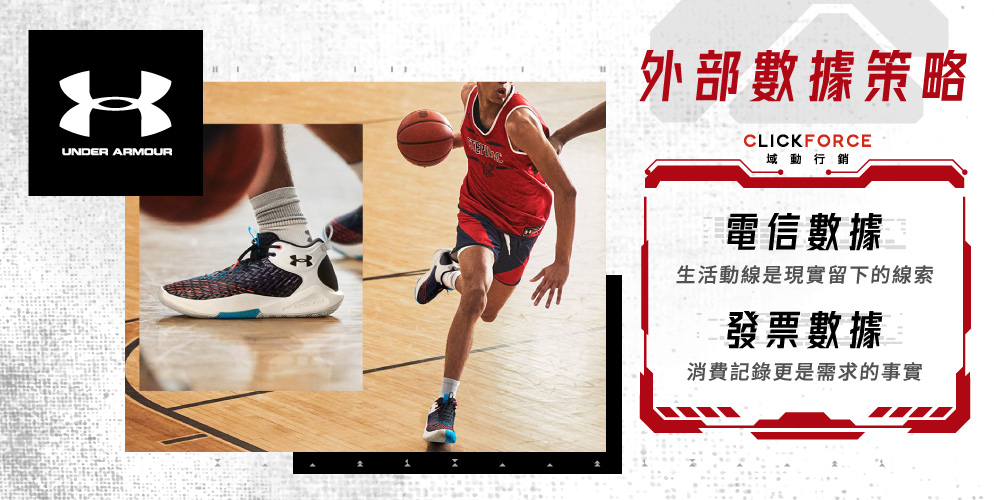 External data strategy
1.

Telecom data: Integrate online and offline data to reflect reality.




【Sport website】Browser +

【Sport related locations】Visitor
2.

Consumption data: Consumption record is the fact of demand.




【Sporting goods shop】Such as momentum +

【Sporting goods】Such as sneakers, training clothes +【designated brand】Actual consumption records
As stated above, the actual behavior mentioned in the two major strategies has rounded up, and the data has been uploaded to a customized audience for use by UA (UNDER ARMOUR) to operate social advertisements. In addition to their website pixels and FB system labels, advertisers have more strategic choices.