The presentation of creative materials is an indispensable and important key to digital marketing today. The Brands need to break the existing framework and impress consumers with the core features of the product in order to truly arouse the interest of target audiences.
The McDonald's dessert card has been around for a long time, and it is a convenient card that is familiar to cross-age groups and most people have owned. Whether it's collecting childhood memories, or snacks at work, it is always a perfect companion in times of hunger and is deeply ingrained in the memory.
This promotion not only collects popular dim sum combo offers but also co-branded with Japan's super-popular "Sanrio" to launch limited-time and limited cute cards.
CLICKFORCE looks forward to attracting audiences through different incentives, and exerting the greatest attention with the creative position.
Therefore, during the promotion period, the following two appeals were selected as the theme of communication with the audience:
Appeal 1. Preferential audience
The four most popular combinations serve as themes for creative advertisements. Audiences who like McDonald's desserts can directly interact with the advertisements to check to see if their own favorite desserts are included in the combinations.
Appeal 2, Sanrio lover
Taking the Sanrio cartoon star as the protagonist of the advertising material, it directly attracts Sanrio fans, and through the interaction of advertisements, fans can know the super cute co-branded appearance of the McDonald's Dessert cards. and this will increase the willingness of fans to buy the card.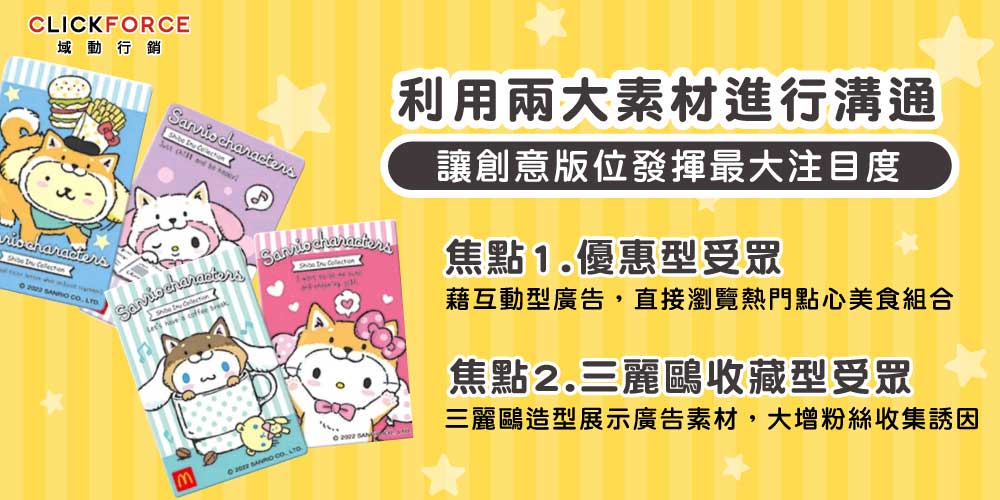 Rely on the matching of these appeals with advertising strategies of multiple audiences, the CTR, Inbound numbers of this campaign, which are valued in digital marketing, all have excellent performance.