Due to the impact of Covid-19 in 2020, people frequently asked, "E-commerce online ads are now all the rage, it has been doing quite well in online business, isn't it? ". Indeed, The epidemic has hit a lot of industrial development, shortage of raw material imports, the crowds of in-store visits have plummeted. Therefore, marketing methods have also developed different possibilities. From personal brand to enterprise, methods of marketing are moving closer to the internet. So, what are the topics worth focus on in 2021?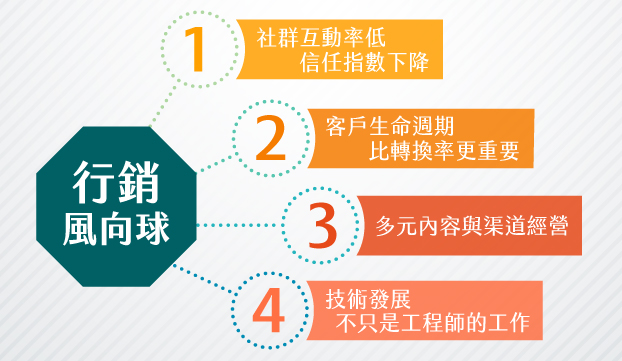 1) Decreasing of social media interaction rate and trust index
In the scope of marketing, consumer's experiences have involved from physical environment to social media nowadays. From the perspective of brand, it still needs to gain high interaction and real feedback from fans.
Because consumers interaction has extended from offline to online, brands need to value how to complete customer experience and how to create a credible impression for consumers more, such as environmental protection issue initiatives, integrating diverse perspectives, operating and expanding echo chambers, improving customer experience comprehensively, through personalized preference prediction and customized publicity methods.
In order to increase the recognition of products and services from users, brand spirit conveying has become more necessary.


2) Customer life cycle is more important than conversion rate
As the touchpoints of marketing scope getting wilder, there are many links that need attention from promotion, brand recognition, and sales process.
It makes each marketing analysis and marketing automation become extremely necessary because of keeping broadening media communication paths.
In addition, as the third-party cookies death is coming, that pushing brand to face how important of customer data collection and analysis from first-party. Thus, it can be seen that user data integration is a momentous investment in 2021. It's a force to be reckoned with CDP, CRM, ERP services provided online and offline, such as data integration of analysis and application, even if fostering the talent of data interpretation.
To keep up with the ever-changing marketing, maintain a flexible thought was the key rule to handle this situation.


3) Diversified content and medium management
Today, the brand's social media has started changing from spreading one-way information into emphasizing consumer participation and interaction, content patterns are focused on atmosphere building more than simple texts includes images and video clips, even podcast immersive sound companionship. It also strengthens the type preference of UGC (user-generated content). Therefore, KOL and live streaming are popular tools for word-of-mouth marketing, and the sales model that introduces the flow of people through celebrities has taken shape.
4) Technological development is not just an engineers job
The advent of the 5G generation will drive the development of many network technologies.
It is conceivable that network tools and applications will become more popular, such as SEO, AI, Data Science, VR, AR... etc., marketing strategies are no longer just about brand positioning and promotion, but also need to flexible use marketing tools on the market, discussing marketing goals and objectives with engineers, and then using multiple technologies and tools to comprehensively look after the brand and sales. In the future, the vision of marketing will be higher, in order to grasp the trend of the market and consumers.




2020 is a very chaotic year. Many enterprises are looking for a way out and making preparations in the chaotic environment. Taiwan is very blessed. Under the influence of the great changes in the world, although it is shaking, we can still stand firm. It is expected that there will be more innovation possibilities in the market in 2021, creating a more creative landscape in the chaos.