"The generation of technology creates fragmentation of information, and we must use data to decompose fragmented information and contours." Such opinion is obtained by Freya, the founder and general manager of CLICKFORCE, from the current digital market. In the past 10 years, "data" is always the main core of CLICKFORECE's development. Through data methods, calculations, and applications, helps advertisers achieve their marketing goals. In 2015, we suggest that every company must have its own DMP system; then the concept of "hybrid data" put forward in 2018, aggregate data, use different algorithms, different tags... etc. to improve the degree of data integration; and we launched the concept of "Five Screens Ads Delivery" in 2019, which believes that data does not only exist online, but it also needs to be combined with offline data to surrounding consumers in 360 degrees.

As a leader in the data field for many years, Freya was invited to participate in Chunghwa Telecom's 7/30 conference as a lecturer, explaining how to flip data applications and accurately lock in the strategy of full data capture. Freya mentioned that there are four major principles for data application: The data quantity must be large, and it must be analyzable, predicable, and applicable. All of them are indispensable. But with data and these four factors, is it omnipotent?
The answer is: No!
Marketers must constantly think about the brand (product) positioning and must clearly grasp the marketing purpose. They must continuously explore the insight and preference of its TA. Use "DEARO" to deconstruct consumers and divide the crowd, package useful data, and use them with proper media platforms. Therefore, it is possible to achieve their marketing KPI. In other words, "data is not a panacea, but there is absolutely nothing without data." We must concatenate multiple data sources, reorganize fragmented consumer behavior, then we could make the right marketing strategies.
The secret of martial arts "DE A R O", expand the hybrid data to achieve greater benefits
The source of hybrid data is constantly expanding. The original telecommunications data, e-commerce data, HOLMES DATA, eLand data, and offline data and consumption invoice data have recently been added. The integration of all data through multiple aspects is conducive to improving the accuracy of advertisers seeking TA.

The following is the secret recipe of "DE A R O":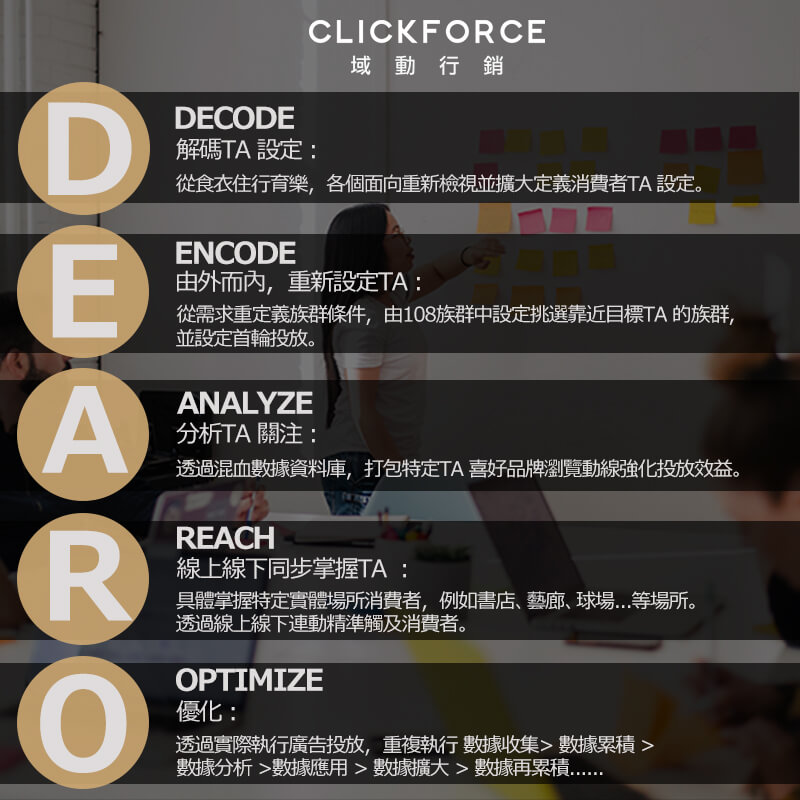 The amount of data will only grow larger and larger. The focus is on how it can be used smartly, effectively, and uniquely. Marketing personnel must find the entry point of the data strategy and make good use of the characteristics of hybrid data in order to more accurately grasp the orientation and characteristics of the crowd, and to find clues from the data, then they can grasp the new future of data marketing.