In the new digital era, flip your imagination of creative advertising!!


Since the release of the "better ads policy", the market has reduced many high-efficiency advertising products; especially the modal ads is the most obvious. Therefore, various digital marketing companies are actively looking for alternative solutions. Therefore, most companies only develop high-priced creative products with novel expansion effects. However, such products only rely on "exposure" as their appeal but do not have any diversion effect, so advertisers must succumb to the implementation of high CPC results.

We have heard the voice of customers! In recent years, CLICKFORCE has been committed to developing products with "low price", "high efficiency" and attracting user interaction. Up to now, MULTIFORCE has dozens of creative advertisements, diversified and rich in forms to attract consumers' attention, and can cooperate with many well-known media to advertise.
Three major benefits of t

he new trend advertising


In addition to complying with advertising standards, MULTIFORCE creative advertising not only attracts consumers' attention, but also has three major advantages: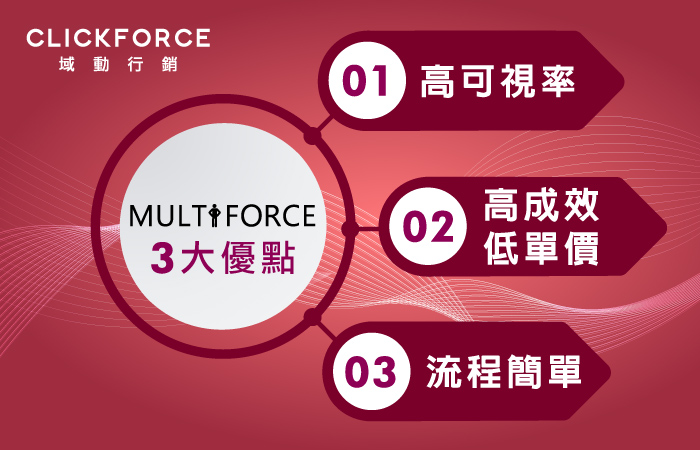 1. High Viewability
The advertising space is on the bottom of the screen; the average viewability rate reaches more than 50% so that the advertiser's brand (product) can be clearly communicated to consumers in different forms.

2. High efficiency, reasonable price
MULTIFORCE creative products attach great importance to effectiveness. In the early stage of development, they fully consider consumer behavior and patterns to achieve high-efficiency product execution results. It is currently one of the best creative advertising networks in the market.

3. Simple execution process
The effect of MULTIFORCE creative advertising network is sufficient to replace the general monotonous image advertising, and become the best diversion product for advertisers. At the same time, it only needs to provide corresponding static image materials and video files; there is no need to rack your brains to produce complex HTML. It can be published easily to achieve better advertising effects.

MULTIFORCE's rich products can meet the diverse needs of advertisers. The best diversion products are worth your own personal experience. For more details, please contact CLICKFORCE.