CDP makes it easy for marketers to "play" with data.
Continuing previous topic related to "CDP" (Customer Data Platform). Along with the popularization of the Internet, and vigorous development of platform websites such as communities, e-commerce, applications… etc. Consumers have not only increased their "online time", but their "online behavior" has also become more complicated and fragmented. Face with consumers intricate online and offline trajectories, browsing preferences, purchasing behavior and other multi-dimension and multi-channel data. If marketers want to achieve their marketing goals, they must have a good data tool to assist.
With many years of experience in "data marketing", CLICKFORCE combines its own advantages of "massive data sources" and "marketer pain point insights" to create "the CDP platform tool that best meets the needs of marketers" to help marketers simplify marketing problems, from data analysis, strategy formulation, to marketing application export and other three stages of needs are met at one time so that everyone can easily play with data and become a data marketing expert!
Platform tools that best meet the needs of marketers
The main function of the CDP platform is "report integration" and "marketing automation". CLICKFORCE's CDP is based on the " real needs of marketers", allowing users to easily achieve "member audience profile analysis", " customized marketing strategies", "multi-channel marketing applications "and other functions on the platform.
The three main reasons we can do the above are as follows: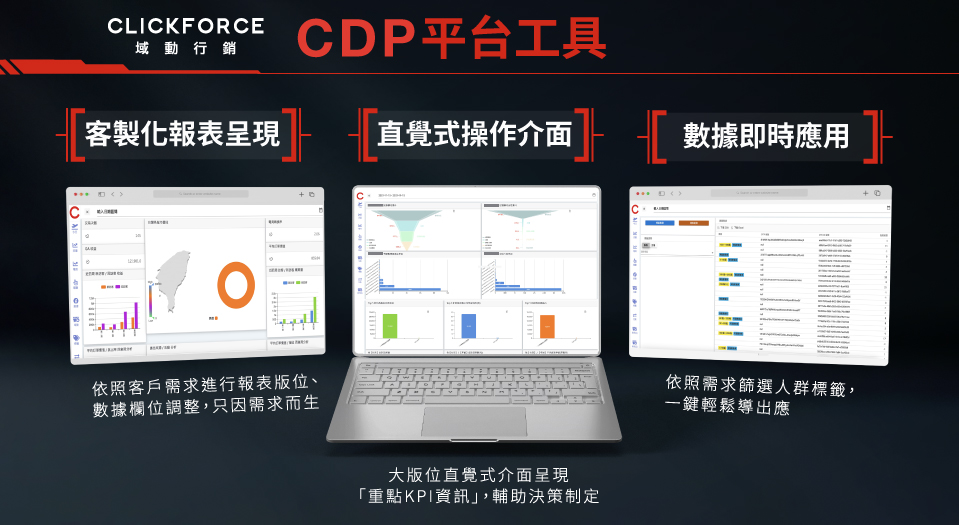 ( )
1. Customized report presentation
Every marketing need is unique. Every brand, product focus on different KPIs and data indicators. CLICKFORCE's CDP takes" demand "as its core. In addition to the standard data reports available on the system for viewing, it also creates "customized" report to meet customer data viewing needs, so that customers don't need to perform additional data processing and sorting. Easily master core indicator data.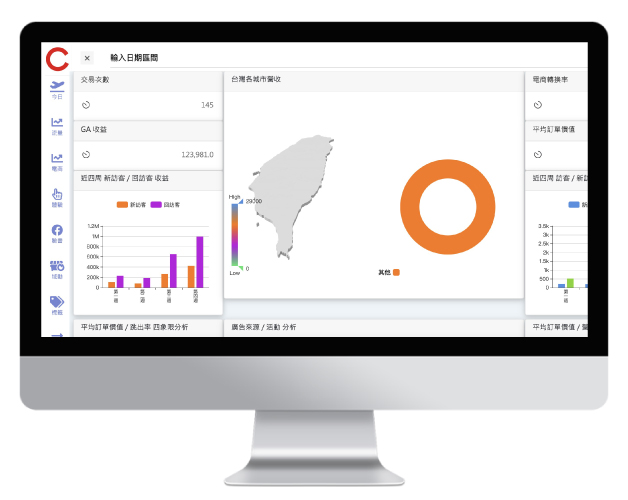 ( Adjust the report layout and data fields according to customer needs, only based on demand. )
2. Intuitive operation interface
Marketers' time should be spent on more important things. The core value of CDP lies in the integration of data through the system, helping marketers save time in downloading and preparing reports, and can focus on interpreting data, making decisions, and promoting more important core tasks. Therefore, the platform not only strives to make the operation interface intuitive and simplistic, but also to display the data, and only retain the "most valuable information" to assist marketers in making decisions.
( Large-format intuitive interface interface presents "key KPI information" to assist decision making. )
3. Not only can the data be views, but be used directly
Data analysis is not a new term in the digital market, but most analysis tools only "provide information" and data cannot actually be applied. In the end, marketers still have to find other ways and tools to achieve their goals, which is time-consuming and laborious. CLICKFORCE's CDP put "data application" as the key point in the construction phase. It not only has simple and easy "label reports " so that marketers can directly screen customized groups according to their needs; they can also directly link them through system connection. Use it directly at the export of external data applications such as text message, EDM, advertising DSP, etc., to implement true "marketing automation"
( Filter crowd tags according to needs, and easily export application with one click. )