Have you also had a similar experience?
At first, you feel displeased with the theme song of the series, but after listening to it a few times, things changed. You find that the melody is actually pretty good, and sometimes the melody pops into your head and you can't help but sing along.
This is the "

Mere Exposure Effect

" in psychology.
When brand advertisements continue to appear in front of the audience, such as mobile phones, tablets, computers, and even DOOH, which has become part of street furniture. And then through the human instinct "like to give familiar things more favor", create a sense of familiarity and then make people feel safe and controllable. And then let brands, produc
ts and customers can gradually build a strong connection.
▎DOOH market scale outbreak
Do you know? In six years, the global DOOH market size will be as high as 13.18 billion US dollars!
"Repeat exposure " is the key element of marketing activities. The factors that are properly buried in the hearts of the audience can be brought into play when there is a need. Let the few seconds of each day accumulate and generate demand, and then become a guide map for shopping.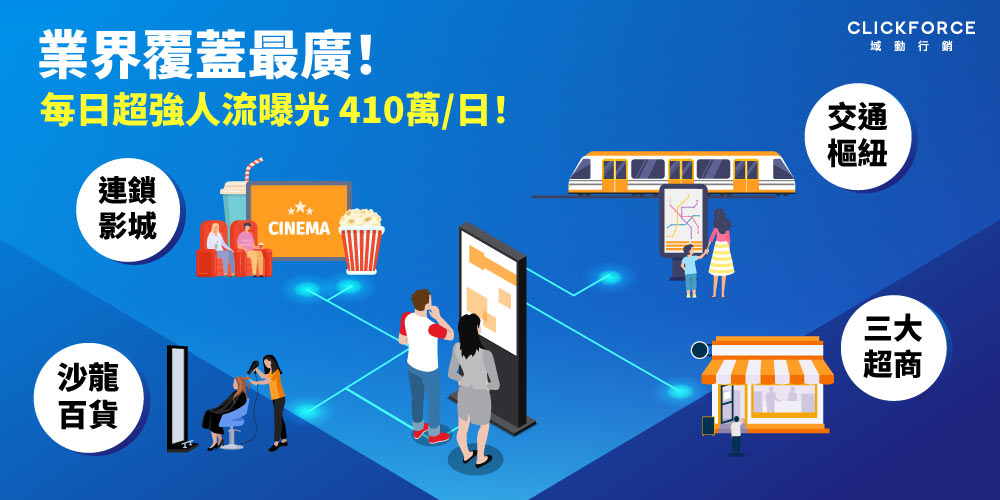 ▎
Where there is a screen, there shows CLICKFORCE - Layout strategy in major media.
Since 2019, CLICKFORCE has been promoting and deploying joint broadcasting on five screens for a long time. It has cooperated with major media platforms to allow DOOH benefits to be exerted in major movie theaters, important transportation hubs for department stores, a large number of supermarkets and chain salons, and more than 7,500 outdoor installations.
In the audience's daily life scenes, the brand information is constantly exposed to leave memory points, creating an unimaginable long-tail effect! In this way, it is easier to cultivate TA's familiarity and favorability with brands and products.
From today, let your brand advertisement trigger the "exposure effect" through DOOH and other advertising positions, and become a part of TA's life!